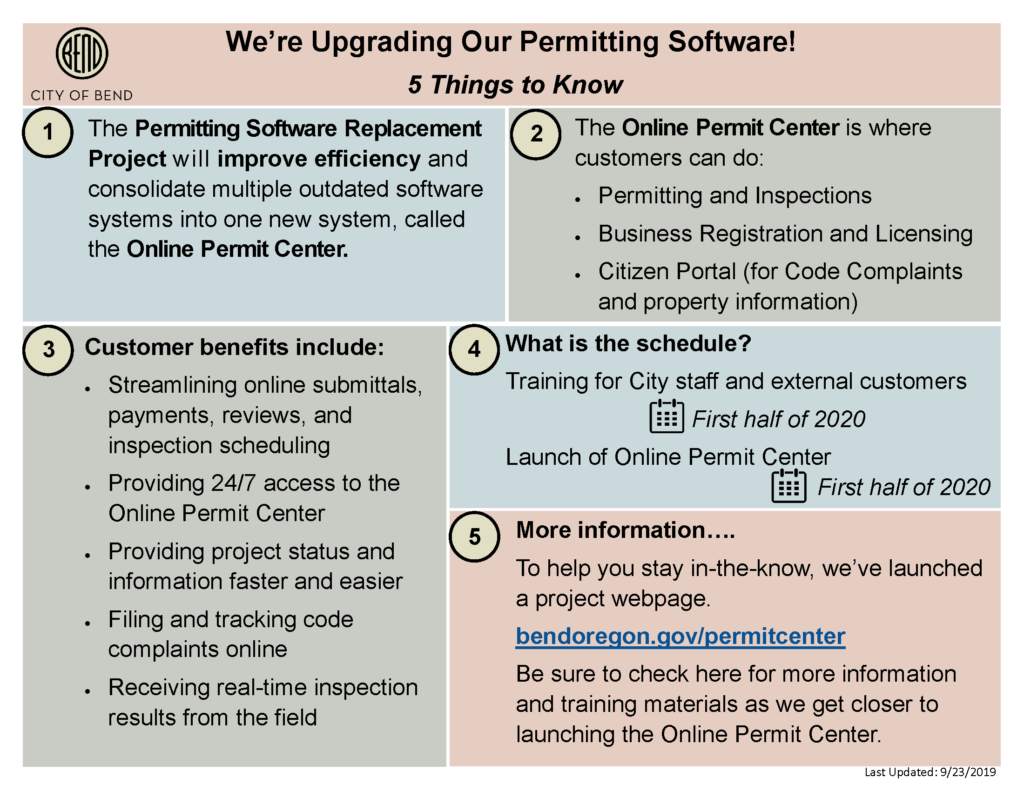 ---
Earlier this year, the City of Bend launched a roadshow to introduce our customers and stakeholders to the Permitting Software Replacement Project—a complex undertaking to replace our outdated software systems with a modern and more efficient and customer-friendly system called the Online Permit Center. The project scope touches everything from:
Building and Engineering Permits
Land Use applications
Business Registrations and Specialty Licenses
Submitting code complaints
Scheduling inspections
Our customers can expect to see a number of benefits in the new system including streamlined online submittals, payments, reviews and inspection scheduling, and the ability to find project status information faster and easier.
Please find a pdf attached of 5 Things to Know about the Permitting Software Replacement Project.
While we originally targeted fall of 2019 for the launch of the Online Permit Center, we have adjusted the schedule due to the complexity of the validation phase. The City's top priority is making sure the product is fully vetted before releasing it to the public. Customers can expect the Online Permit Center software to launch in the first half of 2020. Until this point, your business with the City will continue as usual.
The best way to stay up-to-date on the project is the project webpage at http://www.bendoregon.gov/permitcenter. We will continue to add content and training information to this page as we get closer to launching the Online Permit Center.
Feel free to reach out to me at rgrayson@bendoregon.gov or 541-693-2121 with any questions or to request an in-person visit.