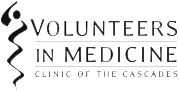 Volunteers in Medicine Executive Director becomes a member of the The National Association of Free and Charitable Clinics (NAFC) Board of Directors. Kat Mastrangelo is the Executive Director of Volunteers in Medicine. She has been involved with VIM since 2004, first as a volunteer, and then in 2008 joining the staff as the Executive Director. She has overseen an important expansion in the number of volunteers and access to care at the clinic, and was able to add services during the recession, in response to the needs of the community.
Since 2014, the VIM clinic has become the leading source of bilingual primary care in Central Oregon, providing not only physician visits, but free medications, labs and testing, and specialty care. These programs are open to all who do not qualify for Medicaid/OHP and are low-income, working and uninsured. Kat's vision for the clinic is to expand and match the available volunteer and pro-bono health care resources in a manner that maximizes the quality and quantity care received for as many eligible Central Oregonians as possible.
Kat is enthusiastic about joining the NAFC board and looks forward to working towards their mission to ensure that the medically underserved have access to affordable, quality health care.