BY: Kale Donnelly  // Workforce Analyst with State of Oregon Employment Department  // Serving the East Cascades of Oregon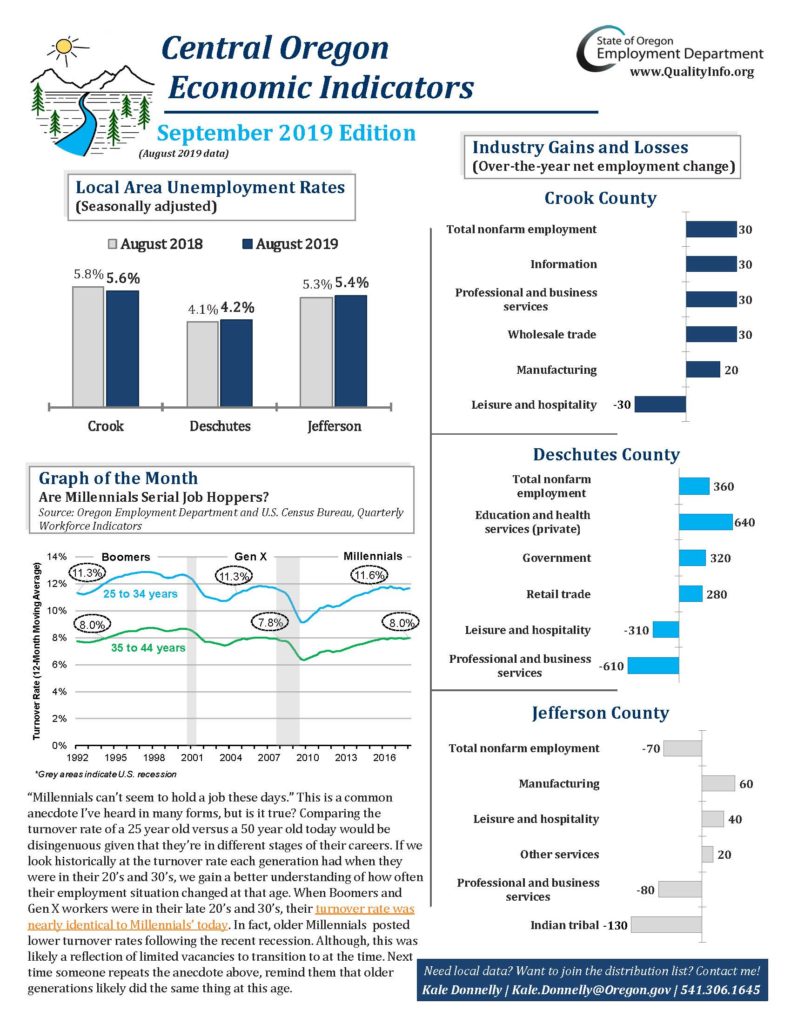 ---
Above is the September 2019 Edition of the Central Oregon Economic Indicators. Please keep in mind that the data presented is for August 2019. The data lags by one month due to the timeliness of employer reporting, as well as a checking of accuracy on our part.
Key takeaways from this month's indicators are:
Deschutes and Jefferson Counties' unemployment rates edged upward from their previous levels in August 2018, while Crook County's rate edged downward.
Deschutes and Crook Counties experience an increase in total nonfarm employment from their previous levels in August 2018, while Jefferson County's total nonfarm employment was slightly less than this same time last year.
This edition's Graph of the Month:
Have you ever heard the reverberating anecdote that Millennials, far more than previous generations, seem to lack a loyalty to their employers and hop from job to job? Well, after some research we found that this statement doesn't hold water. Oregon's previous generations in their 20's and 30's had turnover rates nearly identical to those 20 and 30-something Millennials today. In fact, older Millennials posted lower turnover rates than previous generations following the Great Recession, although this was likely a reflection of limited vacancies for workers to transition to at the time. Interested in learning more? Check out this month's indicators for the Graph of the Month!