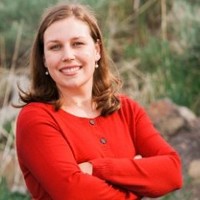 The Bend Chamber of Commerce is pleased to announce the hiring of Jennifer Stephens as a contractor focusing on government affairs. In this role, Jennifer will have responsibility for tracking and providing insights into city, county and regional policies and assist with the chamber's state legislative agenda. She also assists in staffing the Chamber's Advocacy Council and legislative committee.
"We are so excited that Jennifer has joined our team. Government affairs is a complex subject and vital facet of the advocacy efforts the Chamber provides on behalf of our members and the business community," said Katy Brooks, Bend Chamber CEO. "Jennifer has a broad perspective on the issues of Bend's businesses and community, and understands the intricacies of our political and legislative landscapes."
Jennifer grew up in Bend, is a multi-generational native Oregonian, and has roots in local community service, leadership in advocacy, background in management, and political experience. With a bachelor's degree and MBA from Southern Oregon University, Jennifer is also the Governmental Affairs Director at Insite LocalGovAffairs where she works with clients on issues that affect their business at the city and county levels of government, as well as consulting on regional ballot measures and candidate campaigns.