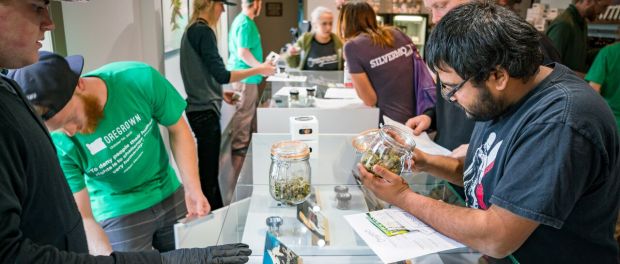 Last October, Oregrown Industries broke records around the state by taking in an astonishing $55,000 on the first day of recreational marijuana sales in Oregon.
"The numbers just blew us away," Oregrown co-founder Aviv Hadar told the Oregonian's Noelle Crombie last year.
Today, the farm-to-table cannabis company, established by friends in 2013, is breaking ground on a project that will double the size of its current retail operation, while greenhouses rise on Oregrown's 84 acre organic farm in Tumalo.
Hadar says Oregrown's success is linked to its brand promise – the same promise that has made Oregon the birthplace of craft beer, wine, spirits, food and cannabis.
"We have been committed from the start to building a company and offering products that reflect the Oregon craft ethos," Hadar says. "We are locally owned, we are growing organic ourselves and working with producers who limit pesticide use. We hire great people and pay a living wage, we support efforts to end the war against cannabis consumers — that continues in other states and federally — and we are deeply engaged in our community. We do all of this because we believe that everything 'Oregrown' should reflect our values and the values of our beautiful state."
Oregon dispensaries saw an estimated $102 million in recreational cannabis sales and netted the state $25.5 million in marijuana taxes over the first six months of this year, according to the Oregon Department of Revenue. But the success of family owned businesses like Oregrown has come amid tremendous legal and regulatory uncertainty as local governments and state agencies implement the rules that will shape the future of this fledgling industry.
Oregrown co-owner Hunter Neubauer says engagement with policymakers has been critical. Earlier this year, Oregrown led a successful organizing effort to repeal a Deschutes County ban on cannabis businesses. Neubauer also chairs the government affairs committee for the Oregon Cannabis Association, a statewide professional association that works at the state and federal level to ensure that legal cannabis companies are treated the same as any other business under the law.
"Oregrown has put countless hours into staffing rule making committees and testifying before city, county and state decision makers this year," Neubauer says. "Our leadership is about much more than building our own company. We are building a sustainable, responsible craft cannabis industry that creates economic opportunity and reflects the best of what Oregon has to offer, including the finest cannabis in the world."
As to the success they've achieved in the year since recreational sales were made legal?
"We are so fortunate to be here in Bend, and we have been overwhelmed by the love and acceptance we've received from the community," Hadar says. "We plan to be here for a very long time. We will continue to demonstrate the benefits that a well-run craft cannabis business can offer to our customers, our region and our state."