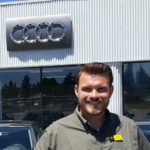 By: Pieter van den Berg, an Audi brand specialist with Kendall Audi Bend
Pieter van den Berg is an Audi brand specialist with Kendall Audi Bend. He is a life-long Central Oregonian and automotive enthusiast. He is passionate about assisting his clients, finding vehicles that fit their lifestyles. When not endlessly re-arranging his inventory, he can often be found at a local dog park, in tense, ball-dropping negotiations with his German Shepherd, Nimoy.
---
In recent years, a number of driver assistance features have come onto market. These technologies are intended to help prevent collisions and keep you safe on the road. Here are a few you might want to consider when it comes time to purchase your next automobile.
1)      Parking assistance – Camera systems and parking sensor cameras can provide a much clearer view of what's behind you. Many also feature moving diagrams that show your path as you reverse. 360-degree camera systems that provide a simulated birds-eye view are also becoming increasingly common. Parking sensors in the front and rear of a vehicle can help prevent unwanted contact with other objects as you negotiate tight spaces.
2)      Pre-collision systems – Camera or radar-based systems are now used to detect objects in the path of your vehicle. They will alert the driver if they determine a collision is imminent and can slow or stop the vehicle in some cases if a driver fails to respond. These types of systems vary in their capabilities and effectiveness, from the speeds at which they will effectively operate, to the degree of intervention they will take, so it is important to do some research.
3)      Blind spot monitoring / rear cross-traffic detection – These systems use sensors in the rear bumper to detect vehicles you may not be able to see in your blind spot and warn you to take caution. These same sensors are typically used to detect traffic that may be approaching from the side as you reverse from a parking spot or driveway.
4)      Autonomous cruise control – Known by many names such as active, dynamic or adaptive cruise control, these systems use cameras, radar or both to maintain a set distance from vehicles in front of you. Capabilities vary, with some systems being capable of driving the car with little to know input, even in stop-and-go traffic.
5)      Lane departure warning / lane keep assist – Using front-facing cameras, these systems detect road markings and alert the driver if they start to exit their lane without signaling. More advanced versions will offer gentle corrective steering input should the driver fail to act, in order to keep the vehicle in its lane.
No driver is perfect, and these sorts of assistance features can provide a safety advantage in an increasingly connected, distracted and congested world. Be sure your sales consultant can adequately explain these features, their capabilities and their benefit to you, when shopping for your next vehicle.