July 14, 2016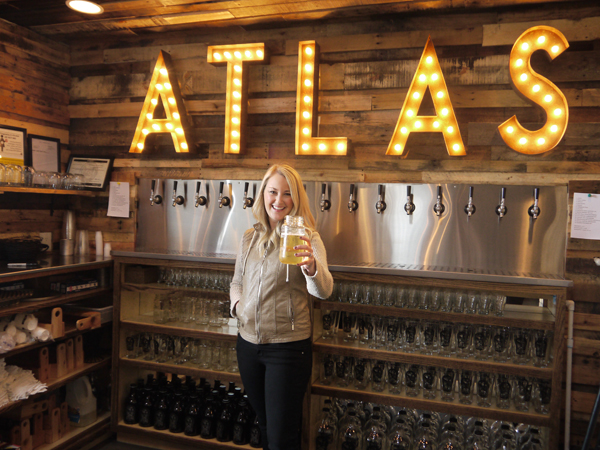 You'll get to meet Sam McCoy, co-owner/cidermaker of Atlas Cider. Sam will take the hot seat, sharing her secrets to success at the Bend Chamber Pints event. Then on August 11, young professionals between ages 21-40 will get an exclusive tour  of the Atlas production facility on Southeast Wilson at the Atlas Cider YPN Social.
ATLAS Cider Co. is passionate about the Central Oregon lifestyle and community, which is embodied in each bottle or pint.  Sam and her husband, Dan McCoy, are former public school educators who chose to settle in Bend to raise their three children.  They are delighted with the support of cider fans and the Central Oregon community who have helped them grow.
The Bend Chamber had a chance catch up with Sam before the upcoming Pints next Thursday:
Q: What do you love about living and doing business in Bend?
A: We were really drawn to Bend because we wanted to huddle down, have a family and be outdoorsy – the same reason a lot of people love Bend. Bend is such a good community. It's family oriented and everybody supports each other in town, which is so nice. Every time I go out I see people I know, so it has that small town feel, but it also has the big-city amenities, which makes it such a great place to do business too.
Q: Why did you start making cider?
A: We were big travelers back in the day. Anywhere we would go we'd try ciders. I really love cider. I worked in an English pub in England for a while. We started making it ourselves in our garage. People were liking it. We also went to the Bend Brewfest one year and were surprised because the longest line was the cider line! At that point, we realized we weren't the only ones who liked cider. There was a big hole in the market for cider at the time here in town. We decided to jump on the opportunity, thinking it was now or never. This is the fermentation capital!
Hear more about Sam's story Thursday, July 14 at Pints. Register here!