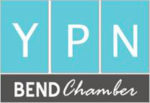 July 26, 2017
---
Be eye to eye with raptors, explore the past and discover the Spirit of the West at this month's YPN! Join us at the High Desert Museum and enjoy brews from Deschutes Brewery & wine from the Pacific Northwest while you delight in appetizers and roam the halls of the Museum with follow YPN'ers
The High Desert Museum has been inspiring families since 1982 and is consistently rated as the top Central Oregon attraction by Trip Advisor. With 135 acres and more than 100,000 square feet of exhibit space, it's a "must see" for anyone travelling through the area.
At the Museum, visitors get close-up views of native wildlife, such as river otters, bobcat, porcupine and badger. They can talk with historic characters who'll share tales of early Oregon explorers and settlers. Guests can visit an authentic homestead and sawmill from 1904 and hear about life in the fledgling town called Bend. Visitors can experience a close encounter with owls, falcons, hawks and even a vulture during our summer outdoor flight show, where the birds literally fly right over head. People can learn about Native American culture and history, and delight their children with one of many fun, hands-on programs that bring history and science to life.
Changing exhibits feature unique stories about the High Desert landscape, its inhabitants, wildlife and culture. Designed to engage and inspire visitors, these exhibits are often paired with programs, field trips and special events so visitors can explore a topic in greater detail.
Our purpose is to provide visitors with a deeper understanding of the region's arts, culture, history and natural sciences through the presentation and interpretation of visual art exhibits, historical artifacts, living history performances and wildlife encounters, and to get connected to the past while discovering their role in the present and responsibility to the future.
To learn more about the Museum, visit us at highdesertmuseum.org.
---
The Young Professionals Network (YPN) is a conduit for young emerging professionals, ages 21-40, to access unique and valuable experiences. We're engaging, educating and empowering young professionals to become the future leaders of business in the region. YPN: Growing relationships in and out of the workplace.
Bend Chamber Members: $5
General Admission: $15
($5 more at the door)
---
Add this event to your calendar:
---