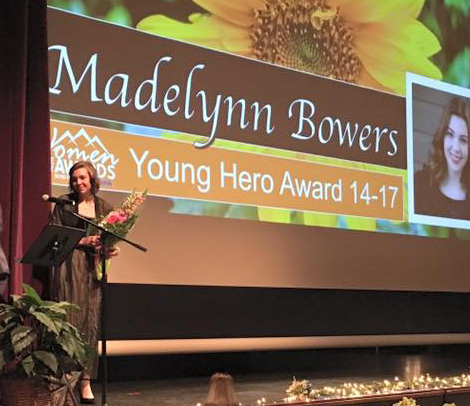 Young Hero Age 14-17 Winner:  Madelynn Bowers
Madie is the editorial intern at Cascade Publications. A Central Oregon native, she is currently attends Bend Senior High School, where she is pursuing an international baccalaureate diploma.
Beyond her work with Cascade Publications, Madie has also spent time in the customer service field. Madie has worked as a Youth Conservation Corps Crew Member for the Heart of Oregon Corps, where she completed an eight week employment program to maintain United States Forest Service public lands.
"I am highly impressed with Madie's abilities and her dedication to what she does. Every day when she is about to leave our office, she always asks if there is anything more she can do. I have discovered that she can handle the fast-paced and sometimes hectic environment that we work in, while still maintaining a positive and professional attitude. To me, this is what it means to be a young hero: to inspire those around you regardless of age or experience," her nomination form states.