People's Choice Award: Volunteers in Medicine Clinic of the Cascades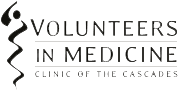 Volunteer in Medicine (VIM) cares for low-income adults in Central Oregon who don't make enough money to afford health insurance or medical care.
Since the nonprofit opened in 2004, over 11,000 low-income, uninsured patients have made 72,000 visits to the VIM clinic. The value of the heathcare services and benefits provided to Central Oregon to date is estimated to be $62 million.
"VIM intends to be here until everyone has access to healthcare, and all of our volunteers are no longer needed," the nomination form states. "In the meantime, we will continue to be awed by the work of these volunteers, and grateful to live in a community that has such a deep desire to help one another."