AOI-OBA
Portland State University's Center for Public Service this week released a study of eight Northwest school districts that quantified the effect of pension and health care costs on Oregon schools. The study clearly demonstrates that the Legislature needs to enact cost controls to ensure that education funding goes toward classroom instruction rather than unsustainable benefits.
The Total Employer Cost of Compensation (TECC) study examined employer compensation costs, including salaries and benefits, for K-12 teachers in five Oregon school districts (Portland, Beaverton, Hillsboro, Lake Oswego and Salem-Keizer) and three large districts in neighboring states (Vancouver, Seattle and Boise). All the Oregon districts had higher total costs than Boise and Vancouver. While Seattle's total costs were higher than all districts except Lake Oswego, its pension and health care costs were lower. All the Oregon districts – Lake Oswego, Salem-Keizer, Beaverton, Hillsboro and Portland – had total compensation costs at least 20% above costs in Vancouver and Boise.
To see the full TECC report, click here.
The report came amid a Legislative debate over whether the $8.2 billion K-12 budget the Oregon Senate passed last week fully funds education. Even with an 11% increase over the last two-year budget cycle, the result will be cuts to school days and teachers, education advocates say. Some in the House, which has not voted on the budget, are pushing for more money.
Debating what constitutes "full funding" avoids the most important question. That question should be, "How can we better serve students." And arriving at an answer requires looking at how Oregon spends education dollars. Spending on pensions through the Public Employees Retirement System (PERS) and health care benefit costs are rising at rates that even an additional $800 million in general fund revenue can't keep up with, diverting money from the classroom to benefits. The TECC study shows that these costs are much higher in Oregon than in Washington and Idaho.
The PERS bill that is coming due for K-12 schools in the next fiscal biennium is an increase of $395 million over the last two-year budget, a 25% increase. Health care costs are growing by 10%. While the Legislature has discussed some concepts for controlling these costs, current proposals are inadequate.
---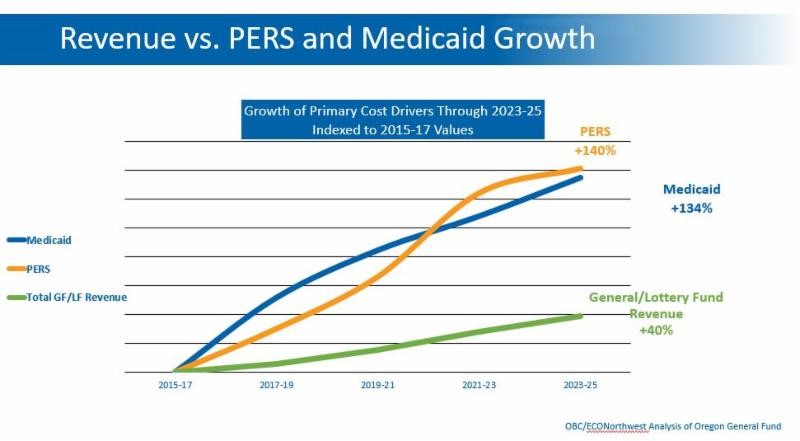 ---
There are actions that can ensure our K-12 schools have the resources needed to avoid cuts to school days and teachers. Solving the problem requires putting as much energy into the cost side of the budget equation as the revenue side.
Brighter Oregon – a coalition that includes Associated Oregon Industries (AOI), Oregon Business Association (OBA) and other Oregon Business Plan partners – has targeted cost-containment strategies that would slow the growth of PERS and health care expenses, allowing schools to focus precious resources on maintaining teachers and school days. Brighter Oregon presented these ideas to a Joint Ways and Means subcommittee in testimony last week. To see the materials, labeled as Oregon Business Council 1, 2 and 3, click here
If these cost-containment strategies are enacted, schools will have the equivalent of the $8.4 billion they say they need to keep the K-12 system funded and avoid cuts that no one wants to see.