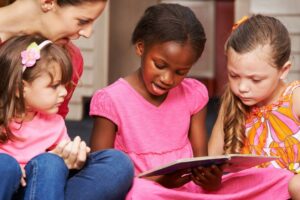 Central Oregon's childcare shortage is an ongoing, difficult issue for families and for employers who want their employees to be able to return to work. The Bend Chamber has worked through advocacy and collaboration to find solutions for the lack of childcare, including supporting a new pilot program that will provide up to 100 new slots in Bend. Last week, the Deschutes County Commission allocated the final $1 million in funding to bring a long-planned childcare pilot to reality. This, added to the additional $1 million allocated by Senator Tim Knopp will fund an innovative childcare facility that can be duplicated throughout the region.
The new childcare program will address the endemic issues that make childcare services so difficult to provide. This includes making childcare more affordable to families and viable for providers by lowering the cost of land, rent and overhead, building a steady workforce who is paid fairly and maintain high-quality programming.
OSU-Cascades and Central Oregon Community College worked with the Bend Chamber, the Central Oregon Early Learning Hub, Neighbor Impact, East Cascades Works and many others to develop a pilot that addresses each of these challenges.
The new childcare program will initially provide care for infants to pre-school age in a mobile classroom fitted for the unique needs of a childcare center. The facility will serve about 100 children and be located on one of the two campuses and serve OSU-C and COCC students and faculty, with some openings for the public.  The higher ed partnership will develop high-quality programming and hire interns from their education and early childhood students to help staff the facility. After the pilot is established, plans are to expand the program by utilizing the pilot partnership as an operator but adding mobile units or utilizing existing facilities throughout Deschutes County and the region. This could potentially provide hundreds more slots to families searching for childcare.
 Childcare has long been recognized by the Bend Chamber as a workforce and economic issue. Lack of childcare is one of the top culprits of the ongoing labor shortage and a continuing barrier to those who are trying to return to the workforce.  Since starting work on this issue in 2018, the Chamber has worked with regional partners on tackling the high cost of operating childcare facilities while employers struggle with finding and retaining employees with families.
The Chamber will continue to advocate for the further development of the OSU-Cascades/Central Oregon Community College pilot to expand it to families across Bend and the region. The Chamber's CEO, Katy Brooks serves on the State Early Learning Council and continues to represent the impact the lack of childcare has on the economy and the workforce.