The Bend Chamber
Preferred Business Guide
Click the cover to read online!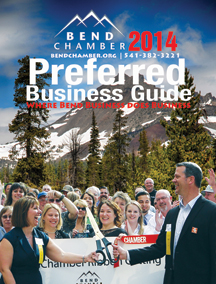 The Preferred Business Guide provides outstanding exposure for your business to the people living and visiting the Bend area.  We bring you affordable rates to give you the best return on your investment!
New in 2014
The Preferred Business Guide will be online! All advertisements will have a direct link to the Business's Web Site! <- that's all year linkage!
Premium Ad
This upgraded option places your ad in one of our seven FEATURED article sections of the Preferred Business Guide.  You may choose from the following sections; About Bend, Education, Relocation, Recreation, Dining, Shopping, or Healthcare.  Your choice of ad location is on a first come first serve basis. So contact sales@bendchamber.org today!
Reach your target market and provide a premium position for your business!
Full Color
Your business is represented in our professional 128 page magazine with ALL ADS IN FULL COLOR!!
First Contact
With insertion in the Relocation & Visitor's Packets and available at our front counter, this magazine provides "First Contact" to people seeking information about our community.  This is where we differ from other publications, your business is the first impression!
Highlighted Listings
An affordable way to get noticed, your business is highlighted in the Business Guide. Applied in all three sections of the business listings; category listing, alphabetical listing, and Who's Who
| | | |
| --- | --- | --- |
| Premium Ad Space                | Size                              | Value          |
| Cover – Outside back | 7.5" w x 10" h | $2,481 |
| Cover – Inside front | 7.5" w x 10" h | $2,157 |
| Cover – Inside back | 7.5" w x 10" h | $1,832 |
| Full Page – Article Section | 7.5" w x 10" h | $1,616 |
| 1/2 Page – Article Section | 7.5" w x 5" h | $ 860 |
| | | |
| --- | --- | --- |
| Category Ad Space | Size | Value |
|  Full Page |  7.5" w x 10" h |  $1,076 |
|  1/2 Page |  7.5" w x 5" h |   $ 674 |
|  1/3 Page |  5" w x 5" h |  $ 509 |
|  1/4 Page |  5" w x 3.75" h |  $ 427 |
|  1/6 Page (wide) |   5" w x 2.5" h |  $ 339 |
|  1/6 Page (tall) |  2.5" w x 5" h |  $ 339 |
|  Display |  2.5" w x 1.5" h |  $ 199 |
|  Highlighted Listing | |   $ 95 |