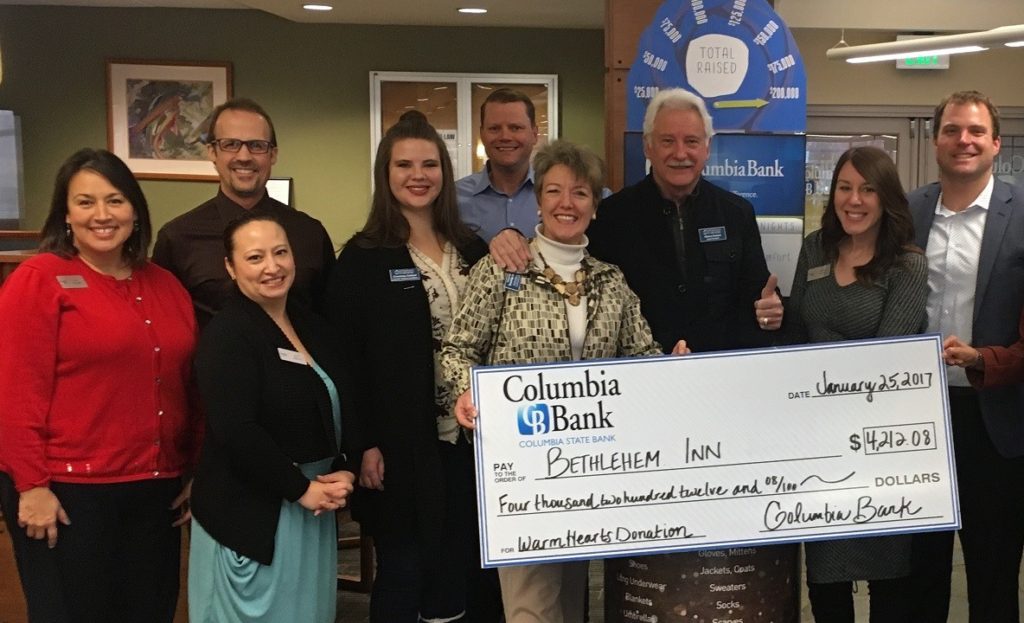 Bethlehem Inn announced today that Columbia Bank selected their organization as the recipient of the bank's Warm Hearts Winter Drive. Glenn Kotara, Bethlehem Inn Board President, Gwenn Wysling, Executive Director, and Courtney Gallant, Outreach Coordinator, were presented with a check in the amount of $4,212 along with new, warm clothing and blankets to help keep people warm during the cold winter months.
Bethlehem Inn provides over 24,000 nights of safe shelter each year for the situationally homeless in the community.  Last year the Inn provided over 900 adults and children in crisis with emergency shelter services.  Gwenn Wysling stated: "The support we receive from generous community partners like Columbia Bank is essential in helping us close the gap between those in need and resources available in Central Oregon."
Bethlehem Inn is Central Oregon's largest emergency shelter; providing shelter, food and case management services to over 1,100 adults and children last year; 70,000 meals were served to those in crisis.  To learn more about Bethlehem Inn and how  to help Transform Lives with Shelter, Help and Hope please call 541.322.8768 or visit www.bethleheminn.org.  Donations may also be mailed to Bethlehem Inn, P.O. Box 8540, Bend, OR 97708.