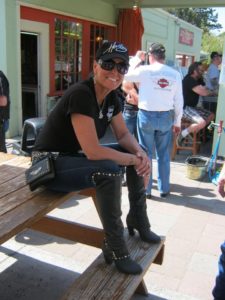 Born and raised in Oregon, but world-traveled, Bonnie has climbed the Great Wall of China, skied Alaska's Mt. Alyeska, trekked around Bermuda and Mexico and even paid respects at  Prince's Paisley Park compound. Despite the world's many fascinating and beautiful places to visit, her heart and soul are devoted to her home and family in Bend Oregon.
Prior to joining the chamber, Bonnie spent more than a decade as a wedding and floral designer, and dabbled in the real estate and mortgage industry. As the chamber's event coordinator, Bonnie oversees the creation and execution of the chamber's monthly and annual events, parades and parties. You can find her orchestrating behind the scenes and also on the stage with the mic in hand! She says her biggest reward is to see successful events enjoyed by all who attend, knowing that the chamber makes a difference in our community.
Bonnie and her husband, Robie, both motorcycle enthusiasts, love riding around the country on their Harley Davidson. They regularly participate in charity rides and in the annual Rolling Thunder, joining over 10,000 bikes at our nation's capital to commemorate Memorial Day. As the wife, daughter, and granddaughter of a veteran, she is fully committed to volunteering to help veterans and veteran's organizations in Central Oregon.