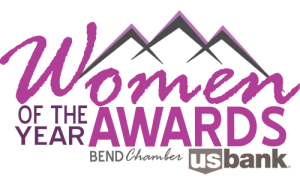 Nominations are now closed.
The third annual Women of the Year Awards ceremony presented by the Bend Chamber/US Bank is just around the corner. These are among the most prestigious awards given to women and girls in our region.
The Women of the Year Awards showcases inspirational stories and extraordinary achievements by formally recognizing and celebrating the outstanding contributions and achievements of women and girls in our community. These awards honor exceptional women of all ages, of diverse cultures and roles, celebrating the power of individuals to spark change and improve their community and beyond.
Anyone, both members and non-members, may submit a nomination, or any woman may self-nominate. All nominees are reviewed by a panel of judges comprised of business owners, Bend Chamber Board members and community dignitaries.
Our Keynote speaker is Sarah Pool, CEO of Besso, a beverage company aimed at creating a "Better World". Sarah was also the Founder & CEO of Pacific Superfood Snacks and winner of the 2017 Women of the Year Awards: Entrepreneur of the Year. Enjoy her empowering words.
We are also honored to have Tammy Baney as our emcee.
Catering will be by Mountain View High School Culinary Arts Students instructed by Executive Chef Sam Kimerling
 NOMINEES
---
Lifetime Achievement Award
---
---
Woman of the Year
---
---
Entrepreneur of the Year
---
Community Hero
---
---
Young Hero Award
---
---
---
Meet our judges:
---
Pamela Hulse Andrews
Caryl Casbon
Connie Druliner
Sarah Lauderdale
Martha Rogers
Stephanie Anderson Stroup
---
Add this event to your calendar:
---